Are you using Microsoft Azure as cloud data platform? Is it running smoothly as well as cost-efficiently? Are you leveraging the full potential of your cloud investments or are you worried about unpredictable bills?
If any of those questions do not have a clear answer right now, we are here to help with a fresh pair of eyes! Our company is specialized in data platform healthchecks, monitoring and optimization.
With the FullData AzureCare Suite it is easy to get grip on the bigger picture of your Azure Data environment.
For example, the ADF monitoring insights & alerting app provides trends over time comparing ADF pipeline runtimes, errors, Alerts, all logically grouped in a dashboard.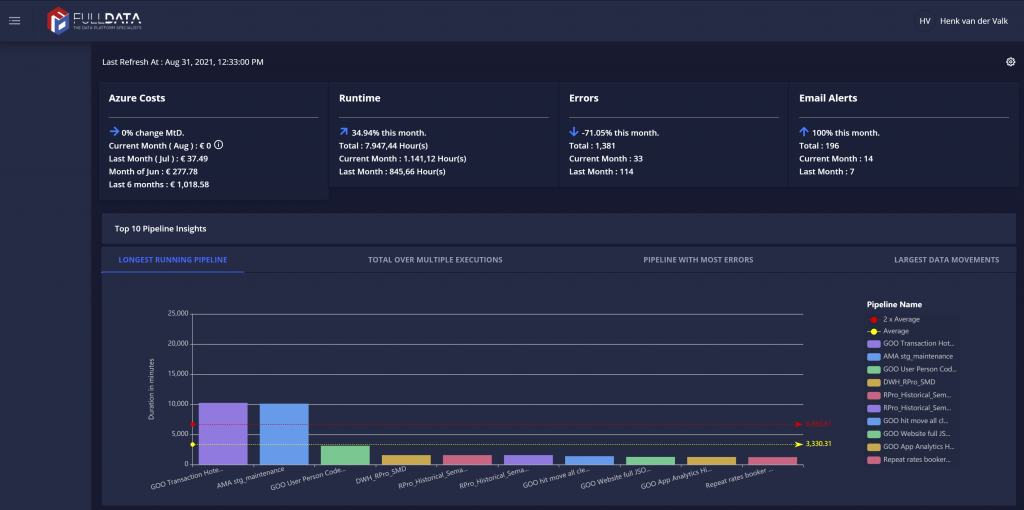 If you are interested in ensuring smooth and hassle-free operation of your Azure data platform allow us to secure 15 minutes of your time to let us walk you/your dev team through our ADF Monitoring and Alerting tool. Feel free to contact us at info@fulldata.nl!